Fatherhood News
Father's Day 2012 Around Ohio!
Father's Day was celebrated in communities around the State of Ohio on the weekend of June 15 - 17, 2012. Here are reports and photos from some of the counties that we are connected with. (Counties listed in alphabetical order) Enjoy - and time to start planning for next year! Email us at info@ohiofathers.org if you need help.
---
BUTLER COUNTY
Celebrate Fatherhood-Middletown, a grassroots initiative spearheaded by 3 R Development, Inc. was a tremendous success! It kicked off in Middletown on Saturday June 9th and concluded on Sunday June 17th. The June 9th outdoor event held at Douglass Park included a 3-on-3 father-son basketball game, a family resource fair, games, including jump rope, kick ball and tug of war. Free food was provided by the Teen Mentoring Committee, one of the event's co-sponsors. In attendance was State Representative Tim Derickson, also a member of the Ohio Commission on Fatherhood.
On Saturday June 16th Celebrate Fatherhood – Middletown sponsored 90 minutes of Dad & Mentor related talent at the 11th annual Multi-Cultural Festival. On June 17th the 3-day event concluded with the results of the My Dad ROCKS essay and creative works competition, awarding more than $400 in cash and prizes; several tributes to community role models (some who were deceased) and amazing performances by Street Souljahs (which included the dynamic father and son duo of Marlon Shackelford Jr. & Sr ) and a comedy from Middletown native, Brian Million who is gaining national recognition for his fresh, witty and crisp style. The entire event was well received and the excitement is growing for what is to become a yearlong programming effort. Sunday's event was held at the Robert "Sonny" Hill community center to a capacity crowd.
A book club, with the first book being Ghetto Cowboy by G. Neri will be the first activity for this new initiative in Middletown followed by a September special event featuring "Straight talk with Dwight Wilson", Middletown Native. The former 2-term general secretary of Quakers in the United States and Canada made him the only African-American in U.S. History to have led a 99% European American denomination.
According to Celeste Didlick-David, CEO of 3 R Development, Inc. "we are more than pleased with this collaborative community effort both with the strong beginnings of this initiative but also with the various support that was received…it takes a village and it looks as if the village has made a commitment." Plans to expand the Celebrate Fatherhood Initiative in Butler County have already begun with activities to follow in Hamilton, Ohio in conjunction with the Booker T. Washington Community Center. Contact Celeste by email at celestediddav@sbcglobal.net.
Street Souljahs (Marlon Sr. & Marlon Jr. Shackelford) and the adult males at the event....Samuel Gordon, Charles Herndon, Donald Anderson, Rev. Greg Tyus, Harry Truss, Gilberto Phillips, Richard Hubbard, Todd Martin, Terry Million and Danny Colson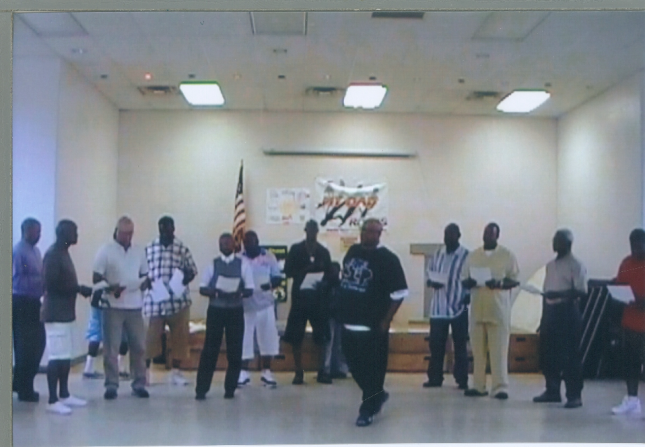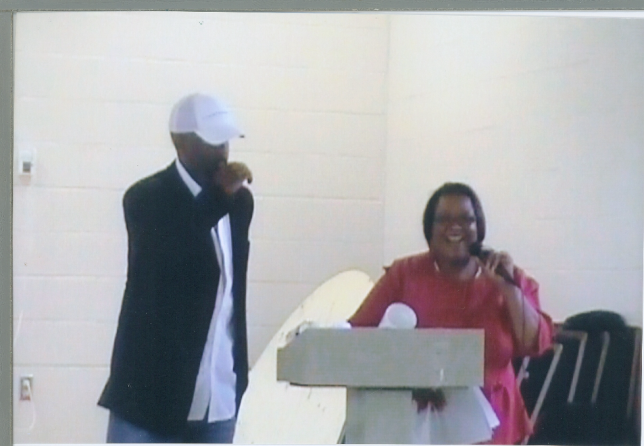 Brian Million and Celeste Didlick-Davis
---
CLARK COUNTY
On Wednesday, June 13th Clark County Fatherhood Initiative hosted a Leadership Luncheon on Fatherhood as a follow-up to its 2011 Leadership Summit. The luncheon was held in St. John Missionary Baptist Church's Family Life Center in downtown Springfield and featured a review of progress on the Action Plan to Promote Responsible Fatherhood. The Action Plan was created as part of the Ohio Commission on Fatherhood's pilot program which was launched in ten counties last year. Four sector champions were recognized for outstanding leadership. Table discussions took place to plot the course for the next twelve months. One year from now, the CCFI plans to have another County Leadership Summit to continue strategic planning.
On Friday, June 15th, fatherhood services provider Urban Light Ministries held its annual Pre-Father's Day Golf Scramble. Fathers from all walks of life were encouraged to set aside time on the links with children and parents. The fundraising event was held at Reid North in Springfield.
The second annual Celebrate Fatherhood Clark County was presented Saturday, June 16 in Snyder Park, Springfield. At the kick-off rally four first-place and four runners-up 3rd through 6th grade students received My Dad ROCKS awards for their winning essay or art submissions. The top four students won bicycles. Their dads or father figures were presented trophies. Following the ceremony, the Fathers & Families Walk took place and culminated in a community cookout. More than 300 people enjoyed free food, a bounce house, lots of door prizes, and a DJ Nettie Carter, also Juvenile Court Chief Probation Officer, provided music. Singer Vaughn Anthony, youngest brother of Multi-Grammy Award winner John Legend sang and spoke admiringly of their single dad father.
Seventeen community agencies provided games, activities, and resource tables. Special guests during the day's event to celebrate responsible fathers included OCF Director Kimberly Dent, County Commission President John Detrick, Springfield Mayor Warren Copeland, City Schools Superintendent David Estrop, County Prosecutor Andy Wilson, and several others. For more information contact OPNFF Board Member Eli Williams at ewilliams@urbanlight.org.
Fathers and children have fun line dancing together at Celebrate Fatherhood Clark County - 2012.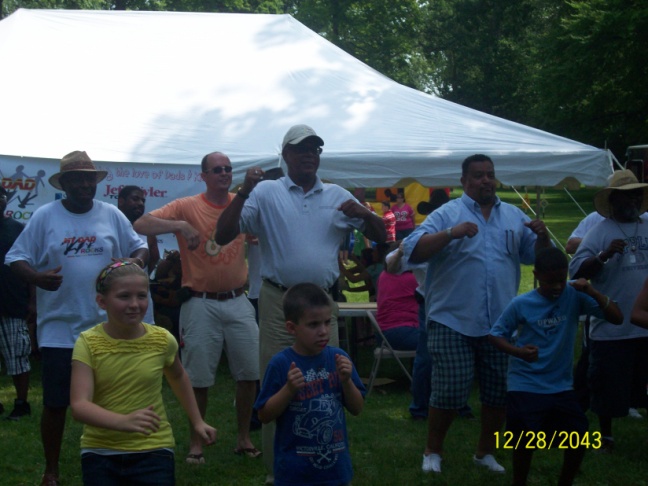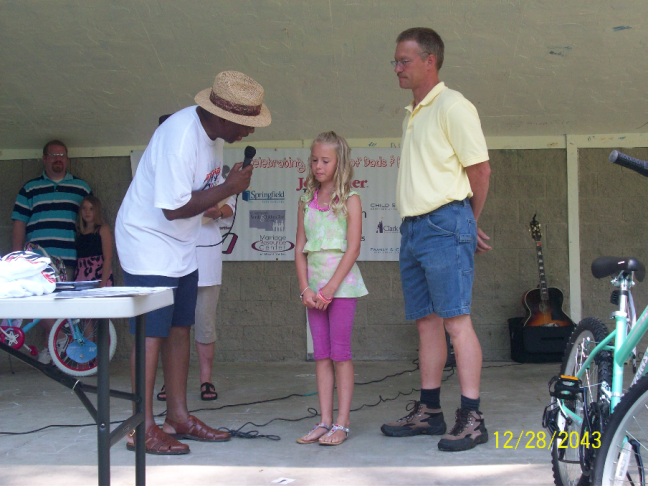 Clark County Fatherhood Initiative Director Eli Williams interviews one of the eight local 2012 My Dad ROCKS winners and her father during the Kick-off Rally.
---
LUCAS COUNTY
The second annual Fatherhood Walk, sponsored by R.E.S.T.O.R.E., Inc, called for fathers and community residents to support the mission to restore fathers to the head of families by walking and enjoying family-friendly activities on Saturday, June 16 at Central Catholic High School on Cherry St. in Toledo.
Mark Robinson, walk organizer and R.E.S.T.O.R.E. founder and OPNFF Board Member, opened the ceremony. Toledo Mayor Michael Bell and Ohio House of Representatives Michael Ashford provided event greetings. The organization's mission is restoration, empowerment, spiritual, transformation, opportunity, responsibility and education; citing Biblical scripture Malachi 4:6. For further information visit www.restorefathers.org
Second-year participant and father Anthony Woods brought his step-daughter Kevon and son Alonzo to participate in today's festivities. He told The Sojourner's Truth Newspaper: "It's important for me and my kids to enjoy the walk, and find out about positive community events." For more information write Mark at restorefathers@buckeye-express.com.
200 walkers participated in the Fatherhood Walk in Toledo.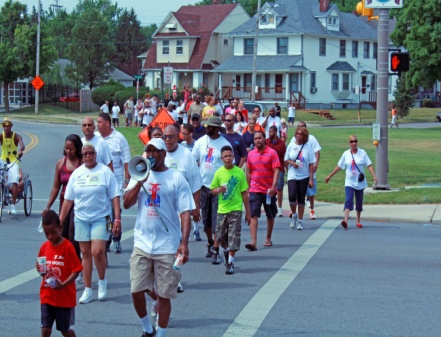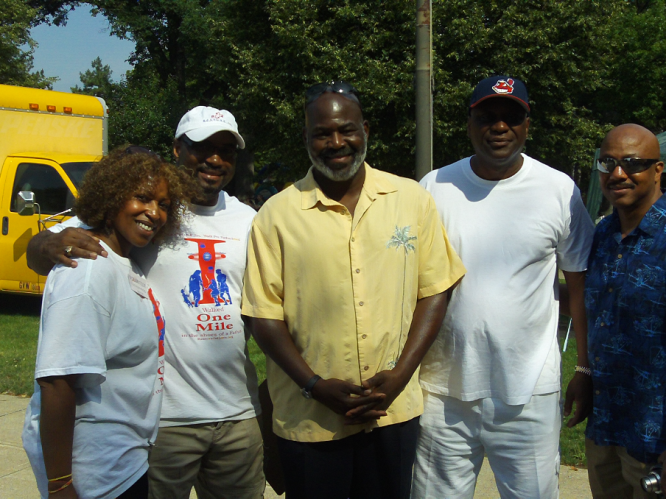 From left, organizer Mark Robinson and friend, Rep. Ashford, Mayor Bell, and Bill Stewart
---
MAHONING COUNTY
On June 15th in the Mahoning Valley the Youngstown Office on Minority Health sponsored in collaboration with NEO HealthForce and the Mahoning Valley Manufacturers Coalition hosted the first "Preparing Men for the Future: Men In Blue, Health Awareness and Workforce Conference. With opening remarks given by Ohio State Senate Joe Schiavoni of the 33rd District. The purpose of the conference was to:
· Engage men from 16 years of age and up to begin devise an individualized plan for their success and promotion of a healthy lifestyle for them and their families.
· Education men on health care disparities pertaining to prostate cancer and other chronic illness and navigating through the health care system for treatment and preventive care.
· Inform them of the emerging employment and education needs of the Manufacturing and Oil and Gas industries, along with the existing needs in the Health Care Industry.
· Investigate the need for men to be provided assistance with social issues associated with fatherhood and family sustainability, which was facilitate by Stephan Hawkins who is aligned with the Ohio Practitioners' Network for Fathers and Families.
· Recruitment for employment with local business and organizations.
Our program had 38 Vendors comprised of employers, community service agencies, educational institutions, and community stakeholders. We had approximately 75 men in attendance. From our conference we identified key take-a-ways to further our efforts to encourage and empower men and fathers to reach their goals. Fatherhood was a key component of our conference, however, it became the overwhelming focal point of what are community has identified as our most important need to address. Our plan is to begin the work to establish a Fatherhood Collaborative for the Mahoning Valley
Dollaine Holmes of the Youngstown Metropolitian Housing Authority played a significant role by assisting with organizing our event and recruitment as she arranged for their male residents to be provided transportation.
We like to give thanks to Felicia Alexander the Director of the Youngstown Office on Minority Health for her work to assist with championing our efforts, along with special thanks to Kenya Roberts-Howard, John Dages of Akron Children's Hospital, Dr. Rashid Abdu the founder of the Joanie Abdu Breast Cancer Clinic, Dave Hughes of Specialty Fab, Neil Yutkin of the Ohio Dept. of Jobs & Family Services, John Burr of BOC Water Hydraulics; Jessica Borza of the Mahoning Valley Manufacturers Coalition, Larry McCollum of YUMADAOP, William "Guy" Burney the Anti-Violence Coordinator of the City of Youngstown, and our anonymous contributor who provided our lunch.
---
MUSKINGUM COUNTY
On the campus of the Muskingum Family Y, located in Zanesville was a gathering of men who are demonstrating Father Presence in the lives of their children. Some of these men were step fathers, grandfathers, uncles, big brothers or just their male role model. Regardless, they chose to take time out, and be in the lives of these children.
ForeverDads is a local nonprofit community based organization in Zanesville Muskingum County that encourages, educates and equips men to develop positive relationships with their children family and community. Annually, through the collaborative effort of local businesses, government agencies, churches, schools and other family focused groups this event happens like the snap of a football.
The afternoon celebration was filled with a collection of activities including a Basketball Hot Shot contest, water balloon toss, Kick, Punt & Pass competition that was sponsored by the Muskingum Valley Biddy League Football. New this year was the Speed Ball Throw. The Girl Scouts provided face painting, while boxing demonstration was done by the PAL (Police Athletic League) program. Kids were free to play in the Bounce House, on the Sticky Fly Wall, or go through the Obstacle Course and down the Slide.
During the entire event dads and kids along with other guest enjoyed an afternoon of swimming compliments of the Muskingum Family Y. As part of our focus on education, a Muskingum County Literacy Council member, Carol Coakwell read a book to the children and also gave each one an age appropriate book to take home.
During the afternoon, a few dads were arrested and charged with being a "great dad", then given a book "NFL Dads -Dedicated to Daughters"; the families shared a picnic lunch and door prizes were given away along with recognition prizes for each of the different competitions. The event was finished off with kids and parents enjoy what else - ice cream. Before leaving each child was given a Frisbee that commemorated the event.
"We know dads are busy people," said Burl Lemon, executive director of Forever Dads. "That's why we did all the work. "By fathers investing a few hours of their time to attend this event, the dividends they reap are astronomical." That's Father Presence. This event was made possible through Sam's Club and the Wal-Mart Community Foundation grant and a host of other business partners committed to family strengthening.
A team of dads and kids tugged the huge inflatable across the campus to a different location due to electrical demands on the outlets that were unexpected.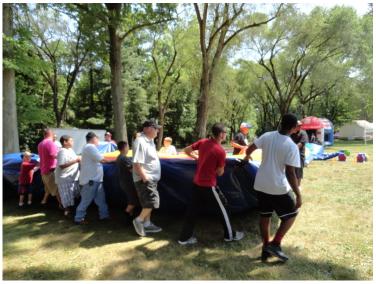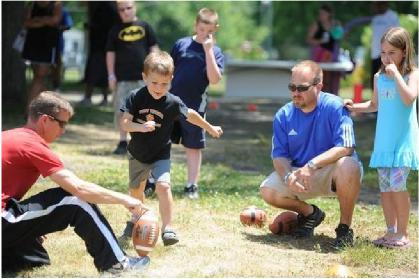 Forever Dads had its annual All-Star Dads Day at the Muskingum Valley Y's Park Central
---
MONTGOMERY COUNTY
The first day of our event, Friday June 15th, was held at Grace United Methodist Church from 6:00-9:30pm. We had several distinguished speakers: Montgomery County Commissioner Deborah Lieberman, Montgomery CSEA Director Bob Gruhl, Interim Director of the Ohio Commission on Fatherhood Kim Dent, Senator Bill Beagle, and Ohio Department of Job & Family Services Director Michael Colbert. In addition, we had local talent and speakers (a father who had turned his life around, in part because of local Fatherhood Practitioner Men of Standards and a young lady who was accepted into an Ivy League school after being abused as a child.) OPNFF Board Member Rev. Eli Williams, who advised the group, was the Master of Ceremony of the Friday night kick-off.
Friday's event was an ice cream social and kids got to spend time with their Dads while working on their art/essay projects for Saturday and just having some good conversation and fun, along with the opportunity for all to meet state and local leaders. The evening also featured a unity circle, in which all the kids under 18 were placed in the middle of a circle that was formed by the adults and the adults linked to show the young people that we were their protectors. We then turned around to show them we "had their back." Finally, we broke the circle and hugged all the minors to show them we had love for them.
We moved the celebration outside on Saturday morning to Omega Baptist Church's Harvard Campus. Eighteen service providers and many guests enjoyed free hot dogs, chips, drinks, and fruit as well as a bounce house for the kids. In addition, local R&B radio station WROU broadcast live from the venue from 12-2. One of the exciting things they contributed was a chance for folks (mostly kids) to come to their booth and say "My name is _______ and My Dad ROCKS!" WROU recorded the shout-outs and played them all day on Father's Day (the next day). Featured on the stage on Saturday were Montgomery County Commissioner Dan Foley, local basketball legend Dwight Anderson, and music by the Ditto Girls. There was also local entertainment (Singing and gospel rapping) and the event was hosted by WDTN TV-2 anchor Dan Edwards.
Lastly, kids were still allowed to work on their art/essay contest entries and all were awarded a prize of some sort with the winners receiving bicycles and I-Pod Shuffles. To learn more contact OPNFF members Michael Newsom at NEWSOM@odjfs.state.oh.us, or Rev. William Lawsonwlawson@metropolitanfei.net.
The Ditto Girls perform at Celebrate Fatherhood Montgomery County – 2012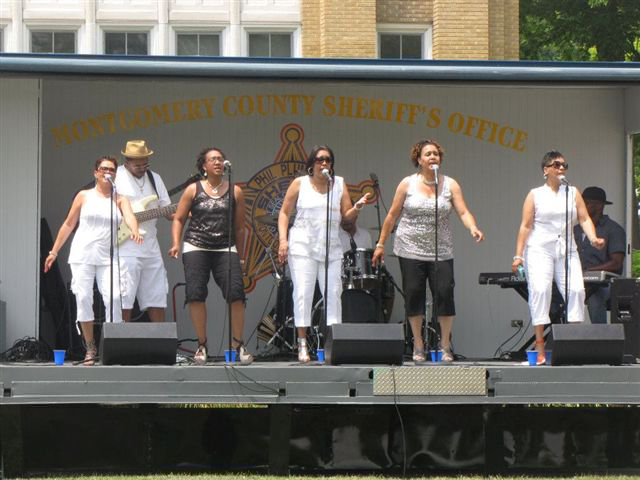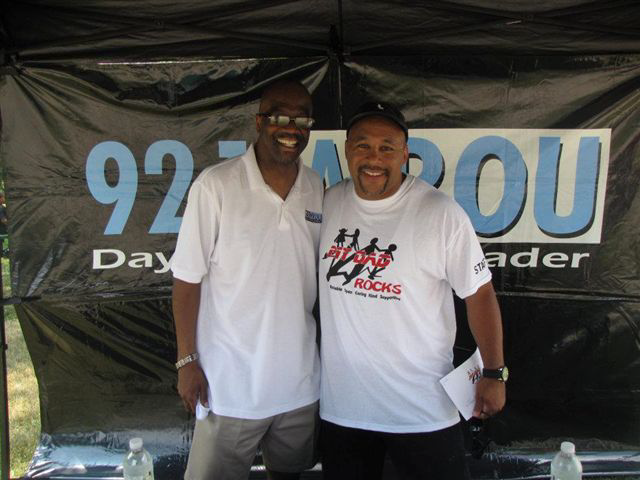 Planning Committee Vice Chair Mike Newsom and Deejay Garth Adams of WROU FM.
---
SUMMIT COUNTY
On the morning of June 15th "FameFathers", Summit County Children's Services (SCCS), "Man2Man", and "Men of Valor" partnered to host a Fatherhood Symposium titled "Courageous Dads: Call of Duty." This event offered breakout sessions, speakers, and resources. Our guest speaker was Darrell Hazell, head football coach for Kent State University. Also speaking was local father, Mr. Troy Gaines and his son with a true story of change and resilience.
The evening of the 15th FameFathers had the "Celebrating Fathers Event" for the entire family. The event was kicked off with a car show with vehicles displayed by local auto dealer VanDevere Chevrolet, the Akron Corvette Club, Akron Fire Department, U.S. Army and special thanks to; Mrs. LaTonya Lewis for her "Chevy SSR", Mr. Stallworth for his "Viper", Dr. Gregory Hill and Akron Police Department for displaying their Harley Davidson bikes inside the facility.
The evening's guest speaker was actor T.C. Stallings from the movie "Courageous". T.C. is a native of Northeastern Ohio and it was great having him back in area. It was also a special Father's Day weekend for him because it was a chance to reunite with his father after being absent for 30 years.
After Mr. Stallings riveting message, we presented "FameFathers Academic awards" to students who maintained a 3.0 and above grade point average for the entire school year.
We also recognized 10 fathers who were nominated for demonstrating Responsible, Committed and Involved Fatherhood characteristics in their lives. We deemed the event a tremendous success and look forward to an even greater impact on the lives of our area fathers as we move forward. We are already looking forward to next year's event with our theme of "MVP DADS" in honor of our hometown hero, Lebron James. For more information reach out to Eugene Norris at norrispastor@yahoo.com.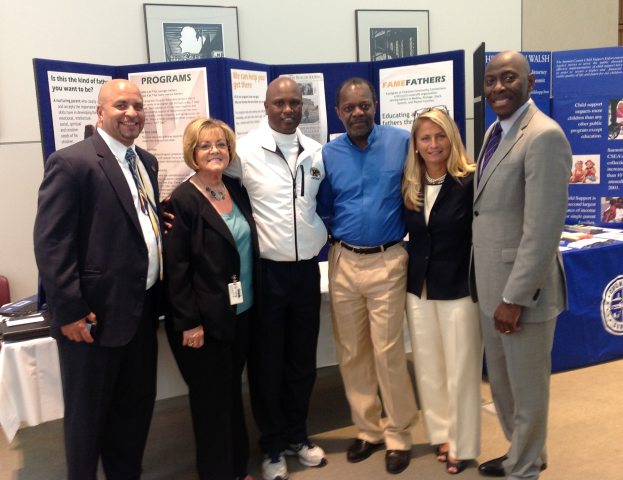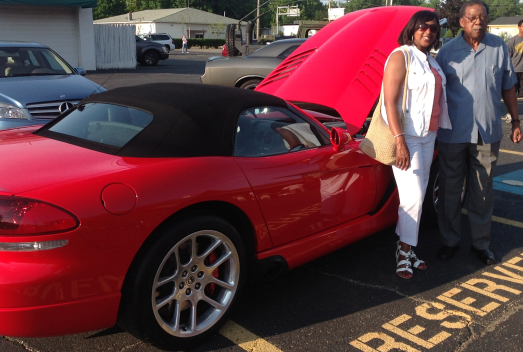 Comments
Would you like to comment on any of the news posted here? We'll post the comments on this page.
Send us your thoughts, info@opnff.net
Ohio Practitioners' Network for Fathers and Families (OPNFF)
P.O. Box 606194
Cleveland, OH 44106

216.502.4795
* email is our preferred form of contact

Membership in OPNFF is free and open to anyone!
Go to Join Us, fill out our online form and click submit. It is as simple as that!
Thanks for all you do for Ohio's Children and Families
Please consider making a donation to support our activities and our shared mission. Click on the button below to donate online
or mail donation checks, payable to OPNFF to:
OPNFF
P.O. Box 606194
Cleveland, OH 44106
All contributions are tax deductible. Thank you for your support of Ohio's fathers and families!